I'd like to start off with the names of these "characters." Shallon. Gurj. Klo. Victoria. Nikki. The last two are normal, although Victoria tends to skew toward prostitute. Who named these people? I'm the most appalled by Shallon and Klo. 
Also, Shallon was a VLOGGER (A WORD I DO NOT EVEN EXCEPT!) for Glamour.com. Turns out, kids, ANYONE can get a TV show these days. Do people even read Glamour magazine? [Fact: I did not know it was still in business.] It's like the poor man's Cosmopolitan, which is the poor man's Harper's Bazaar, which is the poor man's Elle, which is the poor man's Vogue. So what I'm saying it's not your top of the line publication. 
Newsflash: most of these girls are whores. I found that out in the opening 30 seconds where we meet them.
Shallon is a relationship VLOGGER. Whore. Nikki can't find a man in all of New York City who she hasn't dated yet. Whore. She also owns a store called Nikki Laura and if that's not the name of a whore's store I don't know what is. Victoria can't pass the bar exam (because she's an idiot) so in the opening segment she traipses around in a business suit and Tina Fey glasses. She also only goes on first dates. Whore. Klo is getting married (whore) so I'm really excited about watching her try on wedding dresses all season. 
This show is narrated by Shallon and it continuously cuts to her making (or probably pretending to make) vlogs. It's terrible. Her vlogs are obviously terrible. She does this stupid move with her shoulder to tell everyone she's just said something funny. The problem is she hasn't said anything funny. She made a "joke" about Pamela Anderson. Didn't Pamela Anderson die of Hepatitis a few years ago?
Then she vlogged this:

What are they, lesbians? People are gross. If you've run out of people to bang who haven't banged your friends then:
1. You are a whore
2. Your friends are whores
3. Time to move towns
I also don't approve of the way she is "sexily" lying in bed whilst blogging. I put sexily in quotes because one must be sexy to be able to lie sexily. And sexy this Shallon is not.
I like Gurj (although I do not except her name but I'll let it slide because she's British and they do weird things like call their kids Gurj and put meat in mashed potatoes). She almost seems embarrassed to be on the show. Her "rockstar" (maybe, maybe not) boyfriend also seems a little appalled. He's even more appalled when she informs him that the ever wise Shallon has this ex-swap idea and she'll be bringing an ex to a party in hopes that he likes one of her friends. I'm on Jared's side here. This seems like a terrible idea. And Gurj has a boyfriend so why is she even going to this party?
Shallon, Victoria and Nikki live together. Of course they do. Because all 30-somethings should still be living as though they are in college. (Note: I have a thing about adults with roommates. And by "have a thing" I mean that I hate it and it creeps me out.) That said, they have a really nice exposed brick wall so maybe I should think twice about my policy. BUT they also have a futon. And it's blue. And if I hate anything more than grown adults with roommates it would be a futon. I didn't accept futons as furniture in college (is it a couch? Is it a bed? It cannot be both!) so I'm certainly not about to accept them now. And blue. 
They are obviously sitting around talking about pole dancing. That's what girls do. This is probably the reason that, through time, most of my best friends have been gentlemen. I have very little (positive) to say about pole dancing so girls and I don't have much in common. 
Tallon (new name because I actually thought that was her real name and went back to my "notes" and realized it wasn't) says "get her flirt on" and I just pulled the gun out of my drawer to kill myself.
Klo looks really old. So it's a good thing she's engaged because she doesn't look like she has much man finding time left. 
These whores just sit around and talk about (aside from stripper poles) how much flirting is too much flirting when you are in a relationship/engaged/soontobesinglebecauseyoureawhore. Turns out you can go JUST short of saying "hey baby, meet me in the bathroom" to a stranger if you are in a relationship. Good to know. 
Out of all of these ladies only Tallon seems to know that when you are in your own apartment (or a good friend's, or the grocery store) that it is ok to wear soft clothes. Everyone else is more dressed up than I've ever been. This includes weddings and funerals. Do they know they are at home? One of them is wearing these up the leg gladiator sandals that I wouldn't have even been able to figure out how to put on, much less worn them around my own house. IF (and only if) I ever figured out how to get them on I'd just parade around the streets (sans pants, probably) showing off the fact that I figured out my shoes. But she's just wearing them on her futon. 
Tallon also wears one of those nameplate Carrie Bradshaw necklaces that were tacky when Carrie Bradshaw wore them and are certainly not better 13 years later. She might as well be making Cosmopolitans at her wet bar.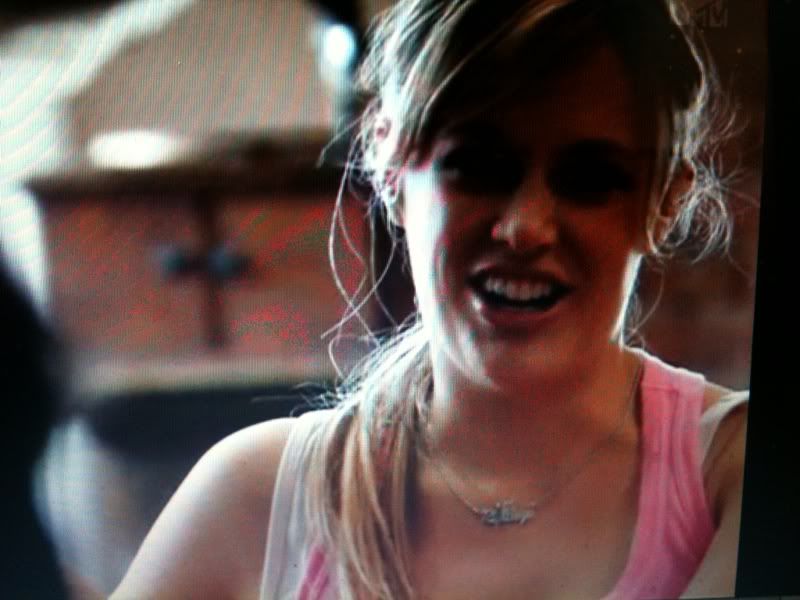 [Note: In less than 15 minutes this has become my favorite show on television and I'm so happy to be alive.]
The guy Tallon is bringing to her ex-swap party likes motorcycles and lives with his parents in Jersey. (I wonder if he knows Olivia or any of my other friends at the Gatsby Salon?) So Tallon hates her friends. 
Victoria has a terrible voice. No wonder she hasn't passed the bar exam. She doesn't have the voice of a lawyer. See: ADA Alex Cabot for "voice of a lawyer" if you want to know what one should sound like. 
Sometimes when Tallon talks she sounds just like Romy in Romy and Michelle's High School Reunion (which I just watched for the 215th time on Saturday and I love so much I don't know what to do with myself). 
This ex-swap party isn't so much a party as just some whores and their exes meeting at Lucky Strike to bowl a a few games and then go home with each other. I was really hoping for more effort here, Tallon.
Another thing I don't get, adults doing shots if they aren't already drunk or if they aren't trying to win a bet. These girls start out with shots. They're pushing 40 and that's how they start? I am just realizing that I am boring but that I'm OK with that. At least I don't come across as the town slut every time I go out. I'd put one dollar on the fact that at least 4 out of the 5 of these girls have had more than 2 and less than 6 pregnancy scares in their lives.
All the exes show up. This would have been much less awkward had it been an actual party. Luckily the girls have enough tequila in them to light up in flames so no one aside from me thinks this is awkward. Oh wait, Gurj does. Always the voice (or in this case, eye roll) of reason. 
Tallon's exes name is Dargon. Is he from Middle Earth?

(Did I just make a Lord of the Rings reference? I want to die.)
When they do shots (because they do more shots) they say: "Cheers, love you." I'd rather be the kind of person that references Lord of the Rings than the kind of person who associates with these ladies.
I will say that Tallon is a girl after my own heart with her obvious love of soft clothes. She's nearly in pajamas. I am almost always nearly in pajamas. The act of putting on hard pants everyday nearly kills me. 

Tallon goes over to Dragon and starts flirting. She is going to sleep with him. Nice work screwing up the rules of your own part, S. Same thing is happening with Victoria. She brought 3 exes and is madly flirting (he's helping her bowl. ADORABLE!) with the one that they refer to as "the child" because he's…a child. Seriously, the guy can't be 17. So this has taken a really dark turn. They share a lime. It's not at all like when Lady and the Tramp shared that spaghetti noodle. It's more drunken and messy, which is weird because one would think that sharing pasta with sauce would be much messier than sharing a tiny lime. Turns out it's not. 
Cut to all the other friends making "I AM DISGUSTED BY THIS" faces. I made the same face but I'm not on camera so no one saw it.
Then they have this really moving conversation:
THEY ALL START MAKING OUT WITH THEIR EXES. Except Gurj. I really like Gurj and I don't quite understand why she's on the show. I think she lost a pretty major bet.
Tallon starts flirting with another guy but informs him, "I just want to make Dargon jealous." And this, people, is why LADIES ARE TERRIBLE HUMAN BEINGS (who shouldn't be allowed to vote).
Victoria and her underage child are so drunk that they are making out down the bowling alley lanes. It's really uncomfortable to watch. ADA Alex Cabot would never behave like this.
AND THEN. AND THEN. Victoria moves on to another guy and the child looks absolutely heartbroken. It's hard to watch and also extremely enjoyable at the same time. She sits in the new guy's lap and mumbles some stuff. All I can make it is Haterade. That's right, Haterade. The guys says the word "naughty" and I officially hope he gets hit by a cab later in the evening. And then he says, "I have to say, tonight you are in detention for the next two semesters." That doesn't even make sense time-wise. And it certainly doesn't make sense coming from a grown adult man's mouth.
I am so confused because everyone looks alike and they've all made out. Everyone else seems just as confused as I am. This also seems like it could be the end of these friendships. But I bet it won't be.
Nikki is kind of a bitch about the fact that Victoria made out with her (Nikki's) ex (as well as every other man in the establishment). Uh, that was the point of the party. I mean yes, Victoria took it a bit far when she stuck her tongue down the doorman's throat, but the point of this entire debacle was to set your friends up with your exes. "You humped a 19 year old in the middle of a bowling alley," Nikki says, as though there is something wrong with that. I didn't understand this party going in and I certainly don't coming out.
Last thoughts: I feel like these broads are too old to have a successful show on MTV. No one wants to see three old roommates talk about menopause.